Antonia Arts Inc.
Scarlett Antonia - Director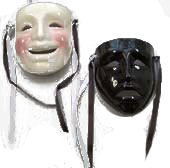 A
ntonia Arts is a production and development company which produces and develops new works for the professional stage and for educational purposes in schools. We accept donations, grants and sponsorships through this not-for-profit corporation.
Scarlett Antonia produced Ushers On Stage, Pierrot & Pirouette and Wonderland Follies at Lincon Center in New York and she produced the Ballet, French at Alliance Francaise in Manhattan. Ms. Antonia produced and directed The Seven Husbands Of Harriet Goldberg at The Palace Theatre on 42 Street.
Ms. Antonia has developed a performance space in Peekskill, New York where she promotes and develops new works and allows artists to develop new projects. She is currently developing a national touring program for, "The Anti-Violence Musical" which is an educational musical for Middle and High Schools.
Ms. Antonia is a choreographer, theatrical director, and dance educator. Antonia Arts Inc. recently received funding from The Weschester Council for The Arts.