Pierrot & Pirouette
starring Mark Stolzenberg and Jennifer Carlson
A Humorous Fairytale about a Clown and a Ballerina. Can play in large and small theaters in a 90 minute full Concert or a 30 to 60 minute Family Show

P
ierrot &
P
irouette is a full length Dance-Theater piece about the touching relationship between a frustrated ballerina and a successful but lonely clown. It utilizes precisely executed techniques from
Ballet, Jazz Dance, Modern Dance, Mime, Clowning
and
Acting
and is gracefully performed by two masterful artists who have combined their genius to create a truly charming and engaging work of dramatic, humorous movement and dance.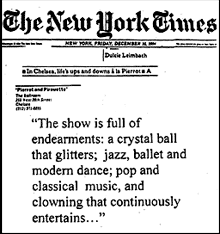 P
ierrot &
P
irouette has run Off Broadway at the the Ballroom in New York City and at Lincoln Center.
The New York Times
called it "full of endearments...clowning that continuously entertains."
T
he story is captivating and fun. It appeals to
all ages
and teaches us that the gift of laughter can help us heal ourselves and reach out to other people.
"...clever, whimsical, poignant...charming...will continue to delight audiences for many years to come."
The Smithsonian Institution

"...a remarkable piece of artistry...The show demonstrates a cohesive eclecticism centered around a beautiful love story."
University of Pittsburgh

"This was theater at its sheer aesthetic pleasure. Thank you." PlayTime Productions, Inc.
About Mark Stolzberg (Pierrot)
>
About Jennifer Carlson (Pirouette)
>
About co-creator Christine DiMario
>