Pierrot & Pirouette
starring Mark Stolzenberg and Jennifer Carlson
A Humorous Fairytale about a Clown and a Ballerina.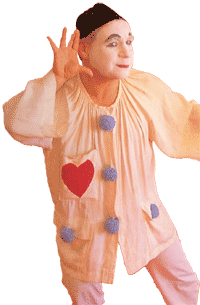 Act I
O
nce a famous pantomime, since his wife's untimely death,
P
ierrot has lived in quiet solitude, finding sustenance in memories and his work as a clown street-performer.
P
irouette is a gifted young ballerina, frustrated in her attempts to become a major star and stuck in a nerve-wracking waitress job.
Y
ou might say one lives in the past while the other lives in the future. That is, until one day she, on her way to work, stops to watch his street act. Utterly smitten, Pierrot pursues Pirouette until her resistance breaks down. Pirouette quits her job and joins Pierrot's act. However, funny hats and clown pants are not quite what she had in mind.
Act II
P
ierrot realizes that Pirouette will never be happy unless she can dance. He sets about to create a ballet for her, incorporating his mime skills in a Grand Pas De Deux. Following a tremendous opening night, he proposes to her. But with the success she has always sought finally in hand, this is more than she bargained for, and Pirouette rejects him.
P
irouette goes on tour with a well-known ballet company and becomes an international star, but finds that, despite all her accolades, her life feels empty. She returns to New York to recapture her relationship with Pierrot, who is still performing in the street.
O
ne afternoon, in a Laundromat, she gets a second chance at love. together again, Pierrot and Pirouette travel to Paris to perform their Grand Pas De Deux. But fate is not quite finished with their saga...