About Mark Stolzenberg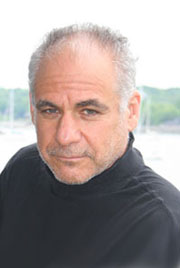 Actor
M
ark Stolzenberg starred in the feature film comedy,
Luggage of the Gods
, which was directed by David Kendall, producer and writer for ABC/s hit
Growing Pains.
. He was a principal in Tom Selleck's film,
Her Alibi
, was a regular character on the
Robert Klein Television Show
, and was one of the lead roles in the feature film
Breakfast in Bed
, which appeared on HBO, SHOWTIME and CINEMAX.
Mr. Stolzenberg has made several appearances on the
David Letterman Show
. and on ABC's
All My Children
. Most recently he played a leading role in the feature film
The Dry Season
and a principal role on CBS's series,
Dellaventura
. In addition, Mr. Stolzenberg has appeared as a principal character in over twenty-five national television commercials.
Circus Performer, Mime and Comic Actor
Mr. Stolzenberg has toured as a clown with the
Ringling Brothers and Barnum and Bailey Circus
and placed fifth in the world in the First International Street Performer Festival which took place in Shizuoka, Japan. Mark was the Artistic Director of New York's
Northwind Circus
and, as a clown, he has opened for Henny Youngman and Phyllis Diller. He makes regular appearances in Atlantic City and was recently invited to give stage performances in Beijing, China. He has also performed as a mime and comic actor with the New Jersey Symphony Orchestra.
Writer, Producer and Director
Mr. Stolzenberg has produced many Off Off Broadway plays, including
Silent Fantasies
at the Theater of the Open Eye,
Strange Encounters
at the Theater Studio Inc, and
Toccata
at the Bond Street Theater.
Mr. Stolzenberg co-wrote and stars in the stage show,
Pierrot & Pirouette
, which he co-produced Off Broadway at the
Ballroom Theater
in New York City and most recently in
Lincoln Center
. He has also performed his one-man show,
The Seven Husbands of Harriet Goldberg
, at the
Palace Theater
at Times Square.
He has written the feature length screenplay,
A Clown in New York
, which was a finalist with the
Sundance Institute Screenwriter's Lab
. In addition, he has written three theater books which have commanded international distribution.
His most recent production is the short film,
My Father the Clown
. Watch for the feature film,
Maximum Fun
, currently in development.
Teacher
Mr. Stolzenberg teaches
Acting for Film and Television
at the
New School for Social Research
in New York City, and at his own
Acting Class for Film and Television
. He was a graduate fellow at New York University, where he created a program called
Learning to Read Through Mime
, culminating in a production at the Guggenheim Museum.
Mr. Stolzenberg has received grants from New York City's Department of Cultural Affairs and New Jersey's Festival of Music to produce and perform theater programs in schools.